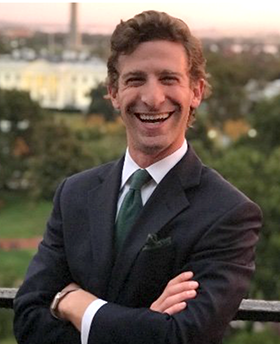 The Propeller Club, Port of Washington, DC is pleased to welcome Cary Davis as a new board member. Cary serves as General Counsel & Director of Government Relations for the American Association of Port Authorities. Cary helps tell the story of American seaports when the President and Congress make decisions on trade, security, transportation, and infrastructure. For three years prior, Cary served in the Federal Government as a Presidential and Congressional appointee for international trade and security.
Cary has discussed maritime trade and security in the New York Times, the BBC, Politico, and Bloomberg News. He has written legislation on international commerce, foreign relations, and climate change infrastructure, which has passed the House of Representatives unanimously and which was featured as the top headline on The Drudge Report. He has written bills featured on CNN, Newsweek, Breitbart, and Zero Hedge and which were the world's top-searched Congressional legislation.
Cary served as a senior Presidential appointee at the International Trade Administration at the U.S. Department of Commerce. There he worked with American businesses and workers to increase U.S. exports, protect strategic supply chains, and combat unfair trade. When working in Congress, Cary served as Legislative Director and General Counsel for Congressman Dan Donovan from New York City, Chairman of a Homeland Security subcommittee.
Before Federal service, Cary was a litigator and trial attorney at the law firm of Reed Smith, where he represented Uber during its 'blitzscale' phase. While at Penn Law, Cary served as a Law Clerk for Senator Ron Johnson on the Committee on Homeland Security and as a Law Clerk for Judge Thomas Hardiman, twice shortlisted for the U.S. Supreme Court.
Cary often travels home to Pennsylvania. He loves water sports in the mid-Atlantic as well as traveling the entire East Coast – with his pittbull, Maddie – to visit historic golf courses.